I am on a self imposed cook book ban. I love cookbooks. Flicking through them, admiring the photos etc. But- I have enough. Particularly because these days when I want a recipe, unless it's an old favourite, I often head off to google. So while I was carrying a copy of a Marie Claire 'Fresh and seasonal' (or something like that) book around the op shop yesterday, I was having stern conversations with myself
"
Cookbook ban
",
"
But this one is lovely
"
"
They are all lovely
"
"
Particularly lovely. And Cheap
"
"
No where to put it
" It went on.
I won (well, I was always going to, one way or the other, wasnt' I!).
I put the cookbook back where I found it. And just look what I found when I did so-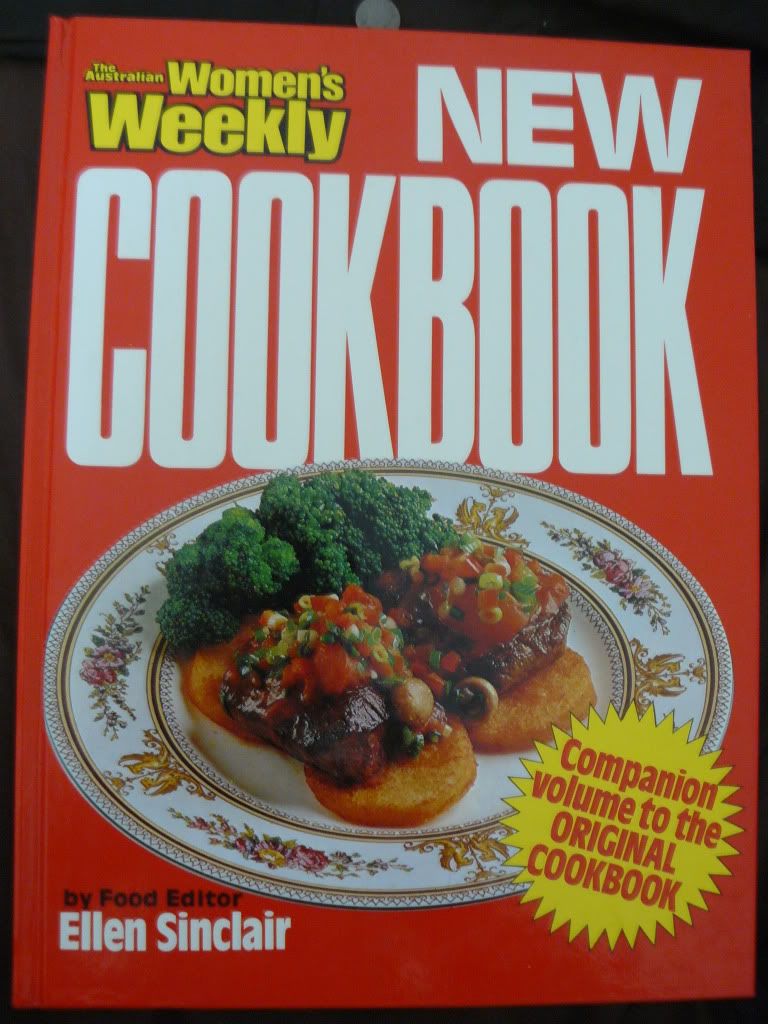 The great thing is, I don't class this as a cook book, I think of it more as a history book. My history- so the ban didn't even enter my head (hmm, shady ethics?!).
What a treasure (a $1.99 treasure too, and in great nick). Yes, I have very happy memories with this book. My mum still has her copy but her pages are all stuck together through years of use and spilt eggs, milk, flour and I shudder to think what else. You see, this was the first cake I learnt to cook by myself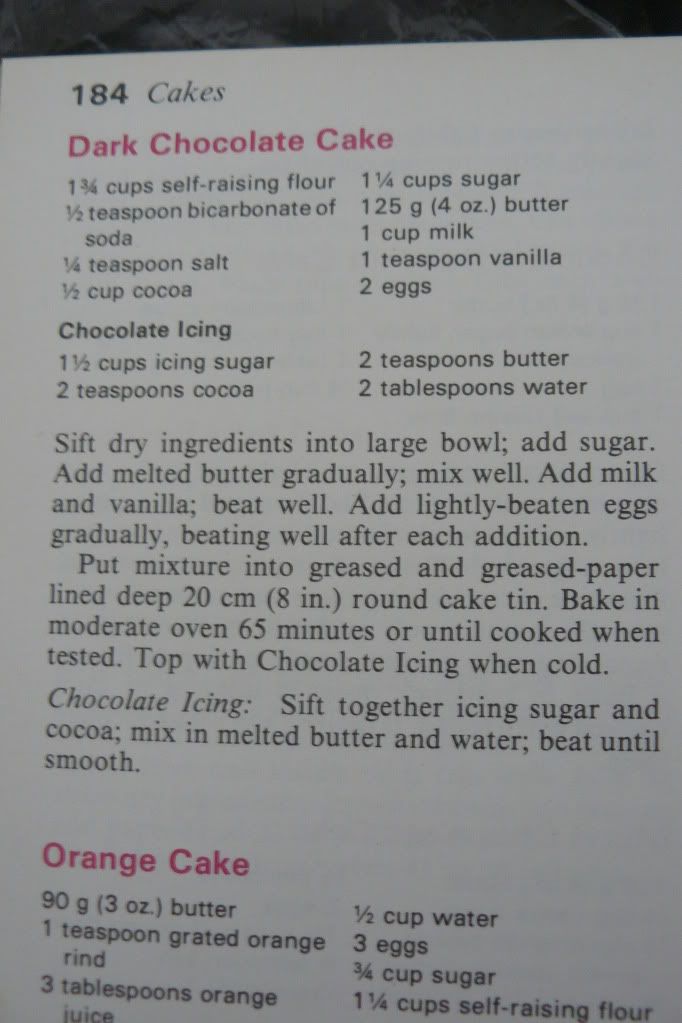 I still use it (but have changed the method, now I melt the butter and whisk it into the milk, eggs and vanilla and add it to all the dry ingredients and beat it with a wooden spoon. It takes a while to cook but not to make. Melt and mix as they say. And if I want a coconut cake? Omit the cocoa, add custard powder in its place and a swag of coconut, Great. Berry cake? Same deal. Versatile I am telling you.
So I have been looking happliy through this book and remembering. My parents 80's dinner parties where I always wanted to be able to waitress, mum would spend a day cooking and a day cleaning I reckon. There was laughter and much hilarity from the adults. They sat in the dining room and had the 'good' dinner set (which isn't as posh as it might sound!). On a good night mum had made this (or her variation there of) and there were leftovers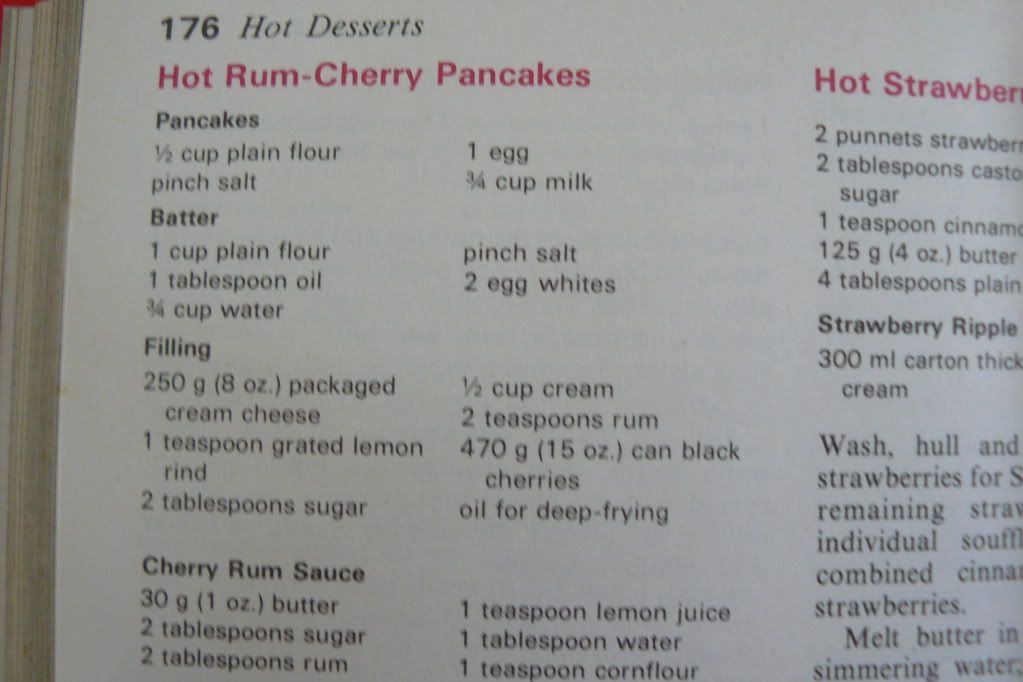 She never made pancakes and deep fried them (batter dipped in batter and deep friend is weird, don't you think?). She made the pancakes and stuffed them with that filling, heated them up and then poured over that sauce. Mmmm, mmm.
We have a disappointingly small (that is being positive!) space for dinner party hospitality, and it's not really part of my peers' culture as it was for mum and dad - but gee, now I feel the need to instigate a return to bombe alaska and devils on horseback!
Some curiosities about this book
many many recipes feature alcohol- cointreau, grande marnier, rum, brandy, creme de menthe- whatever- but more than contempary cookbooks I'd say.
I wonder if it was published at the dawn of emerging wholemeal flour awareness- because there are also a fair number of recipes that include that partiular ingredient.
It had sections on 'recipes for slimmers, cooking for a crowd (funny massive casseroles), how to carve 'the Christmas turkey', beverages (includes a few cocktails), confectionary- ahh, what an all rounder.
Other ingredients that I have noticed popping up abit 'instant coffee powder', 'solid white vegetable shortening' and lots of cream.
Ahhhh, what's to complain about the 80's (okay- point taken, the fashion wasn't a highlight!)
'