It's good, isn't it, when you get to tick something off your list, project completed. You (well, I, in this case) get the happy and proud buzz. I got it last night. I have been working on this quilt for a while.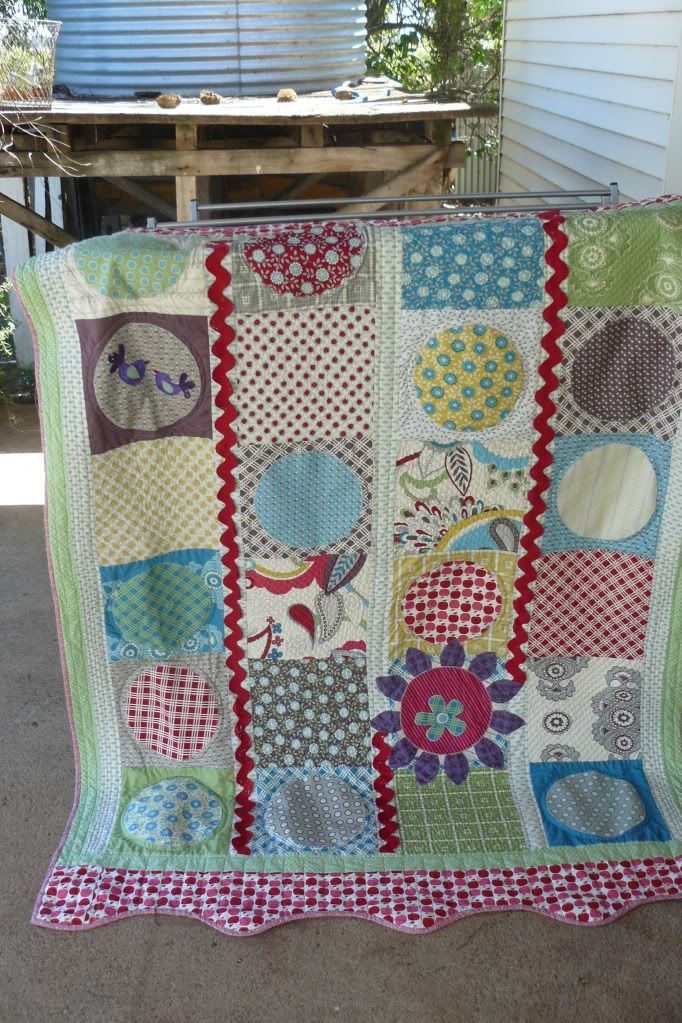 I decided it would be my project for Carolyn's January challenge 'Something for me' (which, I guess was meant to be finished in January). It had a few new challenges in it for me- making 'real bias' bias binding and sewing a curvy border. Okay for a first go, I reckon. Would have been better if the curve was symmetrical- I might have those perfectionists of you out there cringing (sorry about that).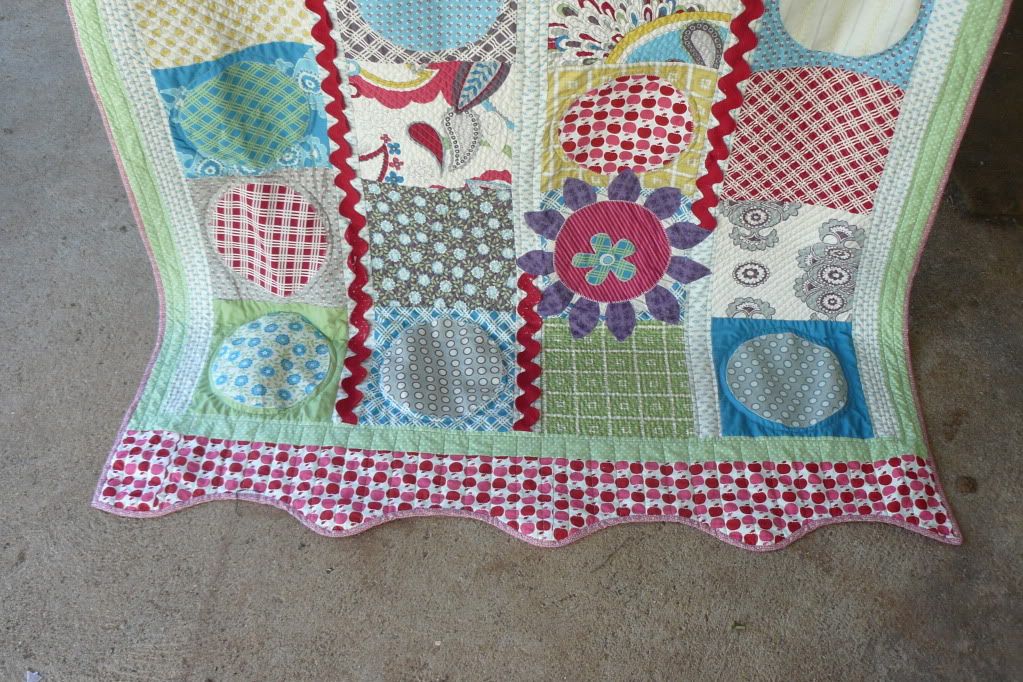 A lot of the fabrics are from the Urban Chicks '1974' range- I like that bright colours but muted sort of look. I also loved working with super Ric Rac for the first time. I spent ages quilting it. I like a bit of a scrunchy quilted look, so knew I would have to do a fair bit of quilting for that, I think I ended up over quilting the squares and under quilting the circle blocks.
The pattern was inspired by one out of Homespun magazine sometime last year.
The other thing I did was finally send off my January swap for Crafty Mamas- the theme was 'a kit'. So I sent my lovely
swap partner
some stuff to make a couple of sock puppets, a panel for a shirred top/ dress or skirt and an oven mitt. She's moving soon, so will be looking for something to do (yeah, right!). It was good to get that posted, I had been procrastinating for ages.
I finished these napkins- not that we really use napkins but I like the idea of this fabric being a constant presence on my table. I think it's an echino (wonder if that's right) fabric in double gauze. So very soft and lovely.
So those are some of the things I have been up to. I haven't taken a photo of the tomatoes yet, but we like to do at least 52 fowlers bottles each year, allowing for 1 a week. So fare we have 34- I think we will be doing a bit more tomato processing on the weekend!