I haven't done as much crafting as I would like lately. I have done
alot
of thinking about what I might do, how I should spent my crafty time (procrastinating, if you like to label).
The annoying thing about my unfinished projects is that lots of them probably only have under one hours work left. I have been thinking about whether I should-

Finish Annie's dress- need to do the elasticised side ties
Finish my wave bottomed quilt top (picture of wave bottom another day!)- needs stitching around the embroidery,
Back and quilt my Christmassy quilt
Do some stamping on fabric (can you get ink pads for fabric stamping? If yes- where)
Finish the shorts for me- the knees are uneven
Make a skirt for my sister in law for Christmas
Finish the 'nautical' cot quilt which really only needs binding.
So I thunk and thunk and thunk and then....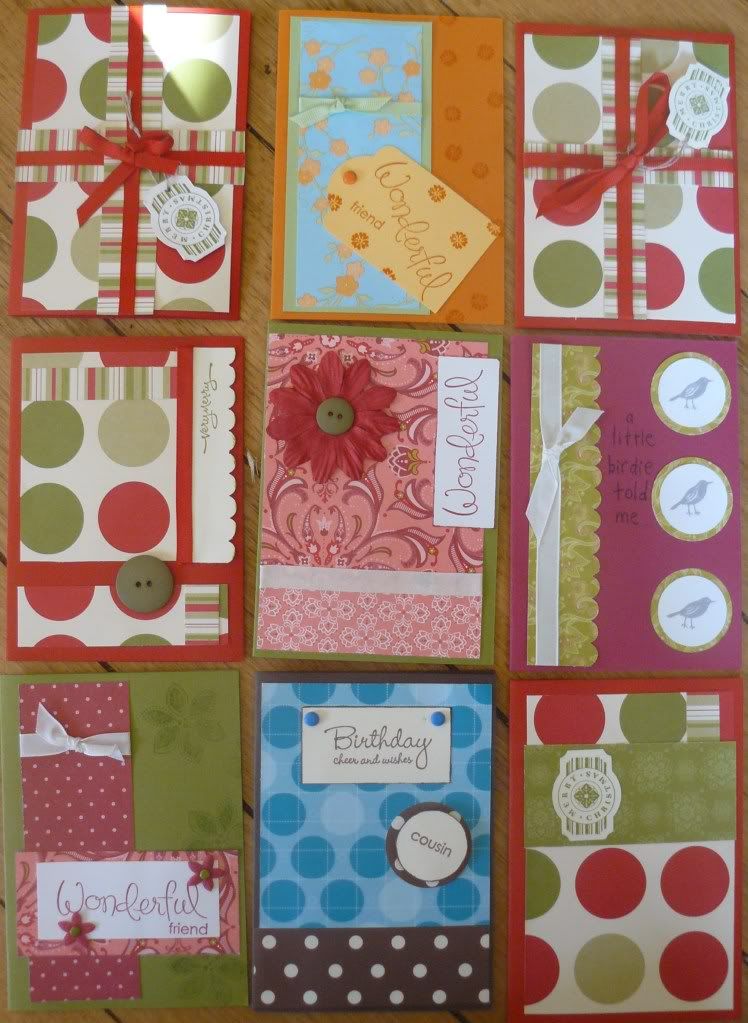 Read: started a new project!

I just realised that the top left card is Cheryl's card and I must have nicked it (by mistake) which means that I didn't win in the productivity stakes- she made 9 and I made 8, not vice versa

(or wice werser as my German friends say)

as I had been suggesting

(ok- in a bragging way)

to Cheryl!!
The good thing about cards is that you start and finish in one sitting and get that 'project complete' happiness that I haven't had for a while.