This little dress was started at Sewjourn, which feels like AGES age, it was finished shortly after but I haven't blogged about it because I wanted to wait till I met the recipient (Isabel), and gave it to her (well, her mother, really) before I blogged about it. Isobel flew over the Pacific for a few weeks in December, I met her briefly and had a cuddle- she's very lovely (I meant to ask her mum if I can put a photo of her up here, but haven't yet- I will edit this to add one once I have spoken to Nat).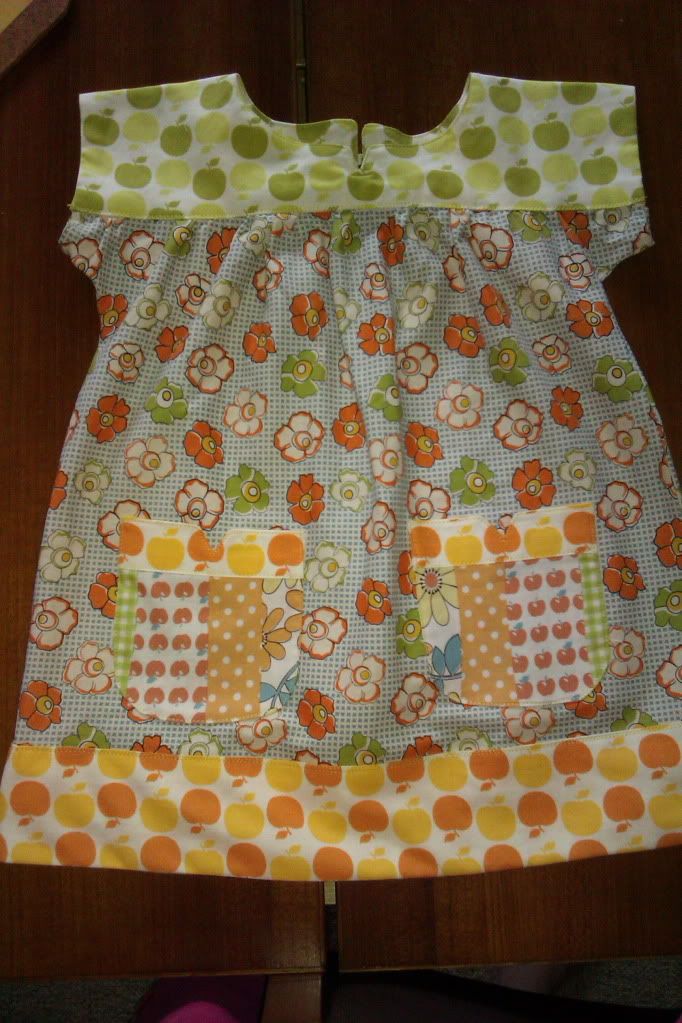 I really enjoyed choosing the fabric for this little Oliver and S "Ice Cream Social Dress". When I was in America, I stayed with Natasha for a few days and she took me to
Mood in New York
(now there's a store to be awe struck and overwhelmed by, it was pretty amazing). Nat likes fabric. I know she likes orange, and I wanted to include some of me in it- so it was the apples
in
tangerine, and in green -funny that you can have apples in tangerine and lime, really, huh. How appropriate that the fabric range it comes from is called 'Farmers Market' (designed by Sandi Henderson).
I asked Nat's sister, Amy what colours Nat likes and she said something like 'vintagey type hues'- or that's what I took it as. So the floral and the pocket fabric completed the fabric choosing- and I forget what range either of those are from.
The other thing I made for little Izzy is project 5 from the
Tanya and Nicole project
- I didn't take a photo of it- oops. but Nikki did, it's
over here
. Nikki was generous with her interfacing knowledge- and it was SO GOOD to see her get her hands onto it and fold, bend, squash etc to see how the different interfacings responded (cause I like that inexact, it depends how it feels kind of style). That was where I first made up a bit of a swatch pack for my different interfacings...and a new appreciation took hold (yep, I want to be the interfacing apprentice!).
So, there's a few older sewing projects...crafting with the girls on Saturday night so hopefully I will get something done and remember that sewing is my hobby and I love it...me and sewing have both been on holidays at this house- and not together!
I am back to work tomorrow, I have had such a nice break, relaxed, restorative. Ahhhh.
Crochet update: thanks to those of you who pointed me towards the left handed crochet tutes on youtube- I was listening to one and my girl said- "Are you actually watching that video about how to crochet?", "Yep", she said "but you already know how to crochet" (she's seen my chain stitch- bless her!), I said "kind of, but I don't actually know alot, there's alot to learn" and she replied "you don't need to know
everything
, you know"